Setting Up your Business Directory
If you have a Diamond, Gold, Silver, or Community Membership level, you will have a free listing in our online Business Directory.
More details on our membership levels and benefits can be found on our JOIN page here
After you log in for the first time, you'll be brought to the Member Lounge, an area that lets you update your business info and access other member benefits.
To fit content to the updated business directory format, we're asking all business members to update their business directory entry.
After you log in for the first time and enter the Member Lounge:
Click "Directory Listing" on the left menu.
Click the pencil icon next to the Full Business Display.
Note: If you happen to see more than one directory entry listed, select the one associated with your business name rather than your personal name.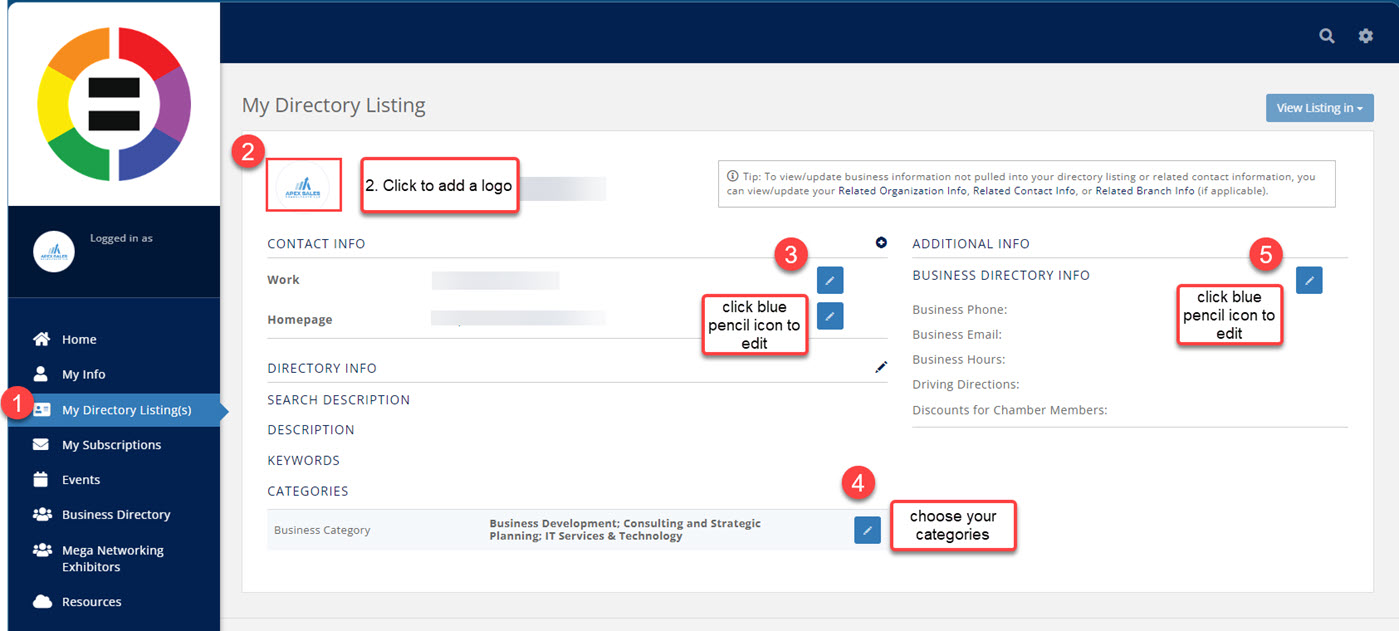 In the pop up window, enter all the info relevant to your listing. All of this info will appear on the public site.
To make the most out of your entry, below is some general advice on the fields:
Short Description: This appears next to your company on the listing when individuals perform searches. It also appears in printed materials promoting your business when we are able to include additional content.
Description: This is the full description as it appears when someone clicks on your business directory entry online. It is valuable to include a rich, high-quality narrative here that can be picked up by search engines.
Categories: These are the categories your business is classified under when people perform a category search, or look by category in the printed directory. We recommend selecting no more than 2-3 categories, so as to most closely associate your company with the right category in search engines, and to allow for limited categories in the printed directory.
Discounts for Chamber Members: If you extend discounts to Chamber members, describe them here. We generally try to promote discounts when our members ask for vendor recommendations.
Click DONE to save changes and close the window.
You can return to the member lounge at any time to update your information. As always, please email membership@eccdc.biz if you have any additional questions on your business directory.